Honeycutt Attends Children's House Fundraiser
Honeycutt Attends Children's House Fundraiser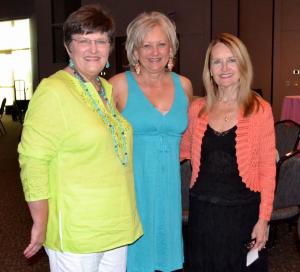 From left: Donna Alliston, Deniece
Honeycutt and Woodie Sue Herlein.
Photo courtesy of The City Wire
ECEP Assistant Director Deniece Honeycutt attended Summer Salsa, the 12th annual fundraiser for EOA Children's House, June 20 in Fayetteville.
With the assistance of caring donors and volunteers, EOA Children's House helps abused children heal through extended care and family support in a safe, homelike setting.
Since it's founding in 1978, thousands of children have received care at EOA Children's House and have gone on to be productive adults. EOA's Children's House has provided all the care needed for the youngest victims of abuse in a single location, lessening the stress of their lives. Now, with the new Pat Walker Children's House facility, Children's House continues to help abused children get back on track to healthy, productive lives.