Training Advisors and Directors Attend National Conference
Training Advisors and Directors Attend National Conference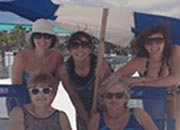 The ECEP training advisors and directors attended the 11th National Training Institute of Effective Practices conference "Addressing Challenging Behavior: Supporting Young Children's Social/Emotional Development." The conference was April 23-25 at the Vinoy Renaissance St. Petersburg Resort and Golf Club, in St. Petersburg, Fla.
The keynote speaker was Scott McConnell who presented "Finding a Middle Way for the Promise of Supporting All Children: Promoting the Development of Smart and Happy Children." McConnell is professor of educational psychology (special education program) and child psychology and Fesler-Lampert Chair in Urban and Regional Affairs at the University of Minnesota. He is also an affiliate of the Center for Early Education and Development.
The conference aims to provide professional with and in depth, intensive learning experience around the Pyramid Model framework for addressing the social and emotional development and challenging behavior of young children. NTI brings together experts from around the country who skillfully present three-hour workshops offering practical, ready-to-use information on social and emotional development of young children. For more information see http://nti.cbcs.usf.edu/index.html.