For the Provider
The below links are potential resources for professionals in the field of early child care and education. The use or mention of any of these sponsoring sites or publications does not imply an endorsement by Early Care and Education Projects or the University of Arkansas.
---
Better Beginnings is the statewide Quality Rating and Improvement System (QRIS) which is managed by the Arkansas Department of Human Services, Division of Child Care and Early Childhood Education. It operates by connecting Arkansas families with information and guidance that helps their children experience a safe, happy, healthy childhood.
Better Beginnings improves the level of quality in child care and early childhood education for all licensed center-based programs and licensed/registered family child care programs across the state. It functions as a voluntary three-tier system that evaluates programs along five component areas: 1) Administration, 2) Administrator and Staff Qualifications and Professional Development, 3) Learning Environment 4) Environmental Assessment, and 5) Child Health and Development. The requirements of Better Beginnings are aligned with Arkansas' early learning guidelines and core competencies for professionals.
Visit the Better Beginnings

website for much more info that parents, families, providers, and teachers can all use
View the state profile

of Better Beginnings from Quality Compendium for a complete comprehensive report
Remember to look for the Better Beginnings star ratings when searching for local

child care providers

in Arkansas
Please note that Better Beginnings is currently implementing the addition of three new levels—Levels 4, 5, and 6, to its program. The official launch date for this has not been announced.
---
Quality Rating and Improvement System (QRIS) provides a framework for building strong early care and education systems within states. With its increased focus on data collection, QRIS can be a powerful policy tool to transform early childhood education. These state systems can be designed for use by all types of early childhood programs—child care centers, family child care homes, Head Start programs, and school-based preschool programs. States can make participation entirely voluntary, or they can make participation mandatory for certain providers, such as those that accept public funding or all programs that are licensed to operate in the state.
QRIS is necessary because only 10% of early childhood providers across the US are considered high quality, with children from low-income families and minority families more likely to be in lower-quality care. QRIS offers a framework to:
Increase the availability of high-quality programs
Deliver ongoing professional development and quality improvement supports to providers
Strengthen parent understanding of program quality and the importance of high-quality child care and preschool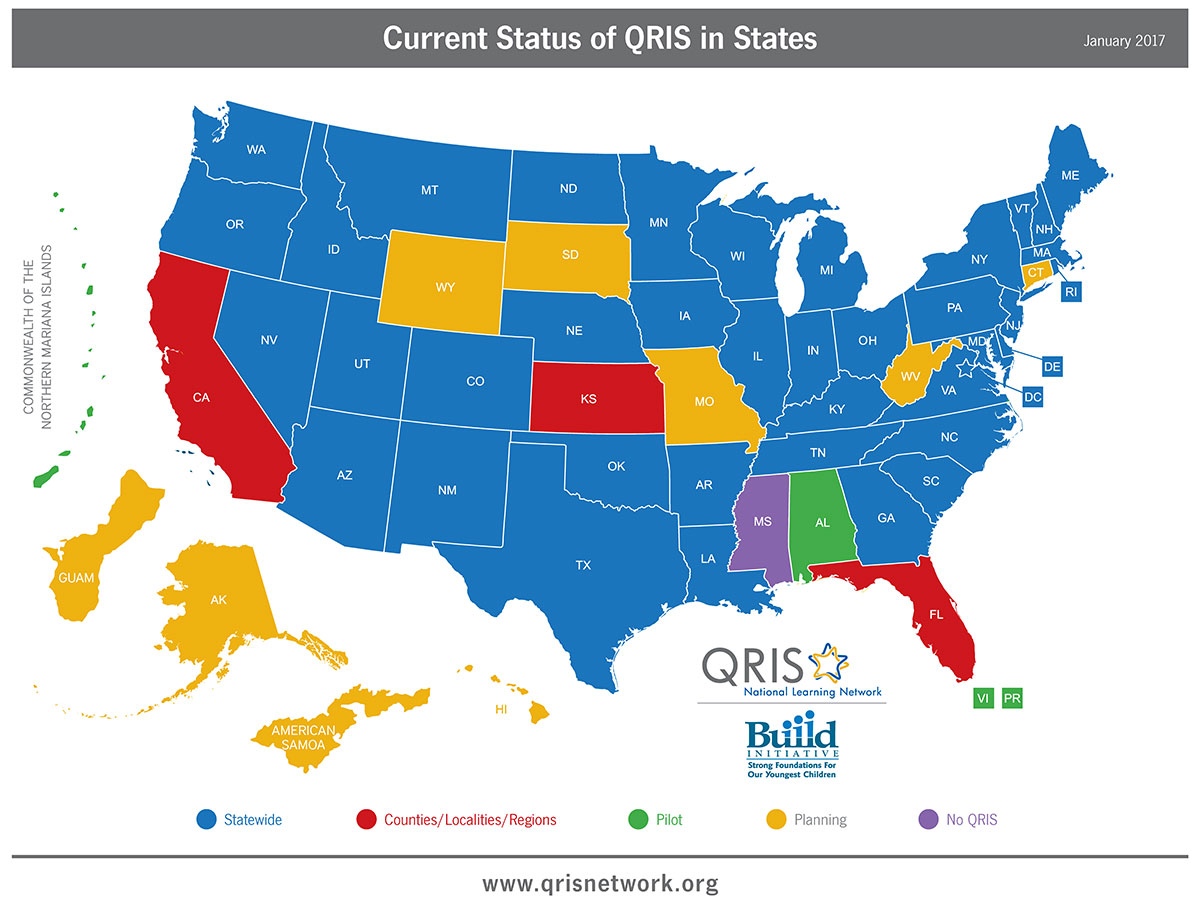 ATTENTION ALL ARKANSAS CHILD CARE PROFESSIONALS:
The below MLR's are the most current version from the Division of Child Care and Early Childhood Education, effective January 1, 2020. The latest revisions are highlighted in yellow. Please check the publication date on the cover page at your center or home and ensure that it's the newest version.
Minimum Licensing Requirements for Child Care Centers revised 01/01/2020
Minimum Licensing Requirements for Licensed Child Care Family Homes revised 01/01/2020
Minimum Licensing Requirements for Out-of-School Time Facilities revised 01/01/2020
Minimum Licensing Requirements for Registered Child Care Family Homes revised 01/01/2020
Vistit the Division's website for more info.
---
Email us for any questions, issues, or for more info regarding the content on this page.
Request a training from ECEP.